The Magic of CityEscape at Christmas
Growing up on my family's Michigan flower farm, Christmastime was always a season of wonder and discovery.
My December memories include blankets of crisp white snow, majestic pine twinkling with ice and spruce decorated with snowy puffs. Inside, among the season's scents from the kitchen, heirloom ornaments, passed from one generation to the next, accented on our fresh Christmas trees.
Holiday memories have a way of becoming family traditions – and that's the magic behind CityEscape at Christmas.
Inspired by a childhood where tradition mattered and creativity was encouraged, the care and love put into CityEscape's holiday experience is my gift to you.
From twinkling lights in the courtyard and fresh-cut greens and wreaths in the pergola, to holiday music, scents and vignettes throughout the shop, my intent is that you take home inspiration that evokes memories and ideas to craft new traditions.
From holiday trees and greens to scents and accents, every item at CityEscape is hand selected and a treasure for gift giving that is custom and unique. Around every corner, visitors will find joy in the many holiday vignettes situated with purpose throughout CityEscape. Every tree tells a story of tradition, trends and experiences, while providing a visual shopping trip of creative, how-to ideas and "ah-ha" moments.
To elevate trees literally and figuratively, our signature style is to present them in containers that are appropriate to the story or theme we're presenting. Containers may be vintage, wrought-iron, urns, classic or contemporary. This is something you can easily do at home to emphasize the story of your family's holiday tree.
My team and I begin planning CityEscape's holiday experience in October, mindful to include traditional palettes of red, green, gold and silver, while bringing in new ideas for blending or spotlighting trends, colors and styles.
Through the years, we've had upside down trees, trees mounted on tables and in sleighs and even a pink tree. This year, BOHOLOVE is the customer favorite. It features Bohemian influences balanced with white-washed vintage urns, baskets and an oversized natural wood Italian mirror as a backdrop.
The entire Boho look is comprised of shell chandeliers, gourd baskets from Zimbabwe, natural wood and shell tassels. The colors are white and champagne, with tinted clear glass balls and finials and glittery snowflakes. White birds and star seed pods are tucked into the branches.
No matter the style of tree, the secret to elegant presentation is layering. Wrap twinkling lights on each branch, working from the inside to the outside. Place larger ornaments deep in the tree and complement their shapes with cascading French ribbon woven into the branches. Add florals, seedpods, glitter sticks, garland or berries to further layer the look. You'll find these items and more in CityEscape's Christmas Market.
While you're enjoying the tradition and beauty that Chicago offers during the holidays, add CityEscape to your list of must-see destinations and find your family's fresh-cut tree with us. After all, we have magic in store.
May your holidays and the new year be filled with familiar comforts and new traditions.
Connie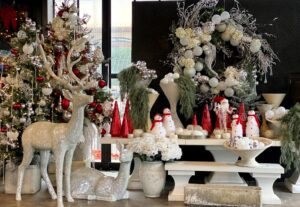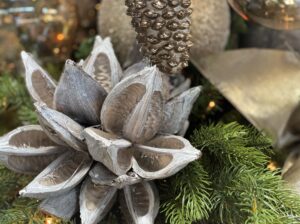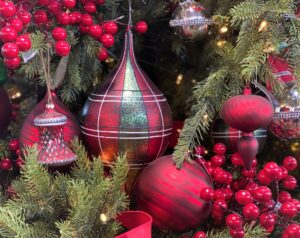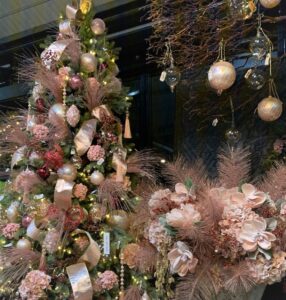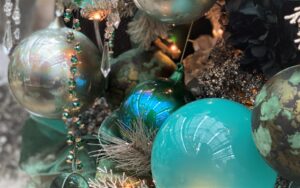 (Photos: Sue Markgraf, GreenMark Media)
---