Introducing Our New Pergola Courtyard
When CityEscape opened in East Garfield Park 14 years ago, I envisioned an "escape from the city" that would provide a place of rest, renewal, and inspiration. This summer, we are excited to open our new Pergola Courtyard – just off the entrance to CityEscape. The space is designed to model creativity, inspiration, and motivation to enjoy your own personal space.
The courtyard and fireplace are part of CityEscape's original build. The pergola structure, which was part of my original vision for CityEscape, is the newest addition. I think you will be wowed by how the pergola transforms the space in form and function.
Now stylized, the Pergola Courtyard is a great example of how to transform a blank outdoor space. Layer yours with potted plants, found objects and your favorite table and chairs to create a warm and inviting area for work, play or alfresco dining. Watch for a seasonal refresh of the Pergola Courtyard as we head into fall.
Before entering our store, don't forget to enjoy our Secret Garden – a tiny outdoor room framed by a handmade wire arbor from the U.K.
A most rare red passionflower, hardly ever seen in the Midwest, climbs the arbor. Vintage vessels contain hydrangea, flowering annuals, and sculptural tropical plants. An espaliered Japanese maple now stands where our unique porcelain Italian fountain (the original inspiration for this garden space) once was. We are excited that the beautiful fountain found a good home this summer!
You don't need a large yard to enjoy your own outdoor space. Your escape might be a porch off the garage filled with container gardens, or your deck planted with vertical lattice and specialty plants. Add a stylish chair and enjoy your escape with a chilled beverage and a good book. As summer begins its transition to fall, bring your tropicals indoors and enjoy them as houseplants through the winter months.
Are you looking for a new plant, home accent or unique item for your space? Whether you're a Chicago resident or visiting the city, CityEscape awaits!
See you soon,
Connie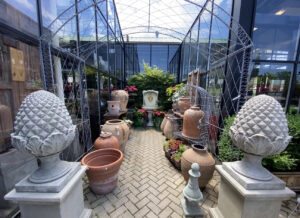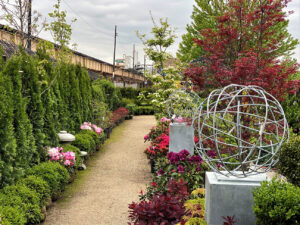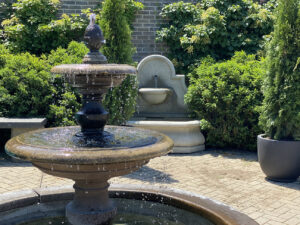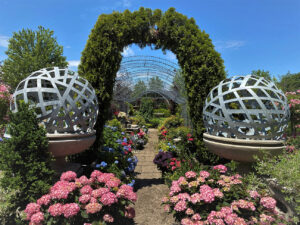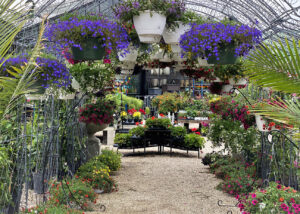 (Photos: Sue Markgraf, GreenMark Media)
---